Loading......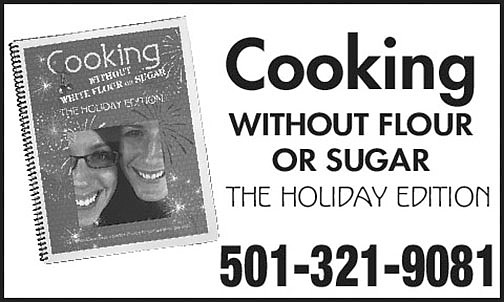 The wife of Dr. William Schmidt has published the book "Cooking Without White Flour and Sugar." – Submitted photo
Hot Springs resident Kris Schmidt has written the book "Cooking Without White Flour and Sugar."
Learning to eat healthier is more than knowing the way to the closest fast-food restaurant or the "healthy" frozen entrees in the frozen food section of the neighborhood supermarket — it's knowing how to prepare meals that are not only better for you from a caloric standpoint, but are healthier, as well.
What "Cooking Without White Flour or Sugar" teaches — in addition to dozens of healthy recipes — is how to substitute healthier and perhaps even more tasty ingredients in family recipes as well. Cooking without sugar means creating naturally sweetened desserts like brownies — without sugar or artificial sweeteners. Yet, they are naturally sweeter than sugar, a news release said.
"I kept to the green diet for a long time," Schmidt said in a testimonial about this diet. "Later, when I learned I had Lyme disease as well as a lot of yeast in my blood, I went on the yeast diet in an effort to clean out the yeast and starve out the Lyme's. I've been doing this for five years. Know that the recipes within (the book) contain no white sugar products, which means no brown sugar, no raw sugar, no distilled cane sugars, no Thai coconut sugar, etc., and no white flour or products containing white flour. Three years later, I was Lyme's free and have regained control over the yeast. I stay on the diet because I don't want to go back to those old eating habits. I have better habits now. I feel better. My blood tests come back better. …
"If you are sick and you want to regain your health, you can't still eat those foods you have always eaten and expect to get healthful results. Even though I am at the point where I can add back foods, I am cautious. …
"You simply make up your mind once that you want to stick with the decision to change your eating habits and stop eating white sugar and white flour products. If it isn't sweetened with honey, you don't eat it. … Your secret weapon will be your own resolve not to sway toward negative influences. Remember, too, that you do not have to sit and watch people eat foods you use to enjoy. You can leave the table; go elsewhere for the time allotted to dining. If you are at a mall, go shopping, look at furniture, or simply watch traffic. There is just no room for cheating on your diet, not one morsel. I tell people that 'I just ate' or 'I never touch the stuff.'
"Also, this really isn't a test kitchen. I've been asked to share how I cook in the form of a cookbook by people who are shocked to find themselves faced with these seemingly difficult diets.
"I hope this helps you. Health can improve with a better diet."
For more information or to purchase a copy of the book, call 501-321- 9081 or email [email protected]
Sponsor Content
Comments