Loading......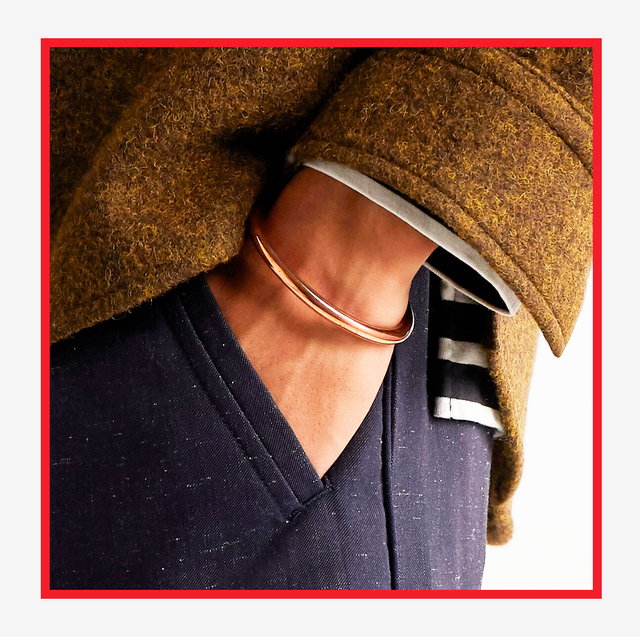 Mr. Porter
The world of men's jewelry can be pretty intimidating for even the most stylish guys. Generally speaking, men's jewelry has a tendency to skew chunky and harsh—think huge novelty rings—which makes it harder to integrate into your everyday look. But as the rise of gender-neutral fashion continues to spread, the amount of men's options has increased and become much sleeker. It's finally time for men's jewelry to shine.
Since jewelry is one of the more daunting areas to explore, it's hard to know where to begin. You can't just throw it on with the same ease that you might a snapback or pair of sunglasses. A little more tact is needed to figure out what items will work best for you. Are you a dangly earring type, like the late and great George Michael, or a simple chain type, like 2020 style icon Paul Mescal? Play around until you figure it out—experimentation is the name of the game.
Bracelets are an easy gateway drug to more daring pieces. They're simple-yet-stylish, flashy without being loud, and can be integrated into your everyday wear pretty with minimal difficulty. Plus, they look great next to a watch. Fortunately, there are plenty to choose from, whether it be a minimalist cuff or a refined leather bracelet. We've rounded the 12 best bracelets for men to wear now.
Advertisement – Continue Reading Below
1
Le Gramme Maillon Sterling Silver and Cord Bracelet
Handwoven in France, this simple black cord bracelet is a versatile option that can be worn daily with ease. The silver-ball detail gives it just enough of a pop to keep it interesting, without being distracting.
2
Alice Made This Maxwell Copper Cuff
Cuffs are a little bolder when it comes to wristwear, but this one in shiny copper is a solid investment. It's even made from recycled copper by engineers who specialized in aerospace part production.
3
John Varvatos Bead Bracelet
Beaded bracelets have been beloved by rock stars for decades. This stone bead piece is embellished with a gold feather charm for extra decadence. Don't be afraid to mix and match with different beaded pieces for a more eclectic look.
4
Miansai Nexus Braided Leather Bracelet, Sterling Silver
When it comes to leather bracelets, a thinner cut goes a long way. This braided piece is crafted with premium Italian leather and topped off with a simple silver closure.
5
Third Crown Prizm Cuff
The curved shape of this bracelet is elevated with a modern angled prism detail for a more dynamic and multidimensional interpretation of the traditional cuff.
6
Tom Wood Gold Boa Bracelet
The thinness of this gold-plated snake chain gives it cool movement. The overall lightweight nature of this piece makes it an easy and subtle option to enhance a simple look.
7
The Monotype The Denis Anchor Chain Bracelet
If you're having trouble deciding what chain size you want, why not try two? This silver chain bracelet uses two different chains to give you the best of both worlds.
8
Alexander McQueen Gold Twin Skull Bracelet
Men's jewelry can sometimes look a little gimmicky, but this can be done effectively in moderation. Case in point: this Alexander McQueen cuff—a thin bracelet bedecked with small yet striking skull accents at the opening.
9
Tateossian Braided Double-Wrap Bracelet
https://www.neimanmarcus.com
$165.00
If you're an outdoorsy type, consider a braided bracelet for its durability. This Tatossian one is made with nylon and synthetic leather strands for maximum endurance.
10
Raf Simons Silver Knot Safety Pin Bracelet
This silver chain is ornamented with a branded lock charm that wouldn't look out of place at either a punk show or a warehouse rave.
11
Bottega Veneta Black Nappa Bracelet
Designed with supple leather from the brand's native Italy, this alternative take on the braided bracelet is crafted with pull-through fastening instead of a traditional clasp for fit adjustment.
12
A.P.C. Silver Benoit Bracelet
With a simple polished chain and an understated logo charm, this A.P.C. bracelet perfectly encapsulates Parisian cool.
This content is created and maintained by a third party, and imported onto this page to help users provide their email addresses. You may be able to find more information about this and similar content at piano.io
Advertisement – Continue Reading Below